Welcome
Welcome to Charlotte Camera Club! We are a growing, active club of photographers spanning all ages and skill levels. We offer a fun mix of opportunities and ways to participate.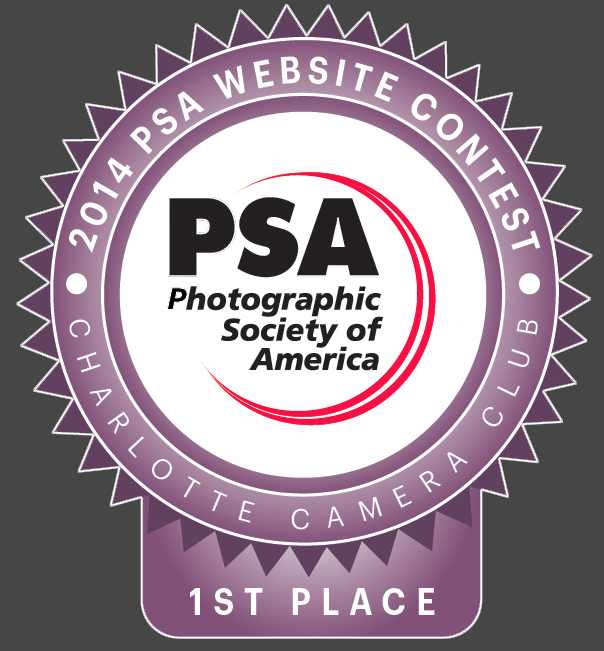 Our meetings are held on the second and fourth Thursdays of every month except the months of November and December (no second meeting those months). Meetings begin at 7:00 p.m. and conclude by 9:00 p.m. We meet at St. John's Episcopal Church at 1623 Carmel Road, in Room 205. Members and guests are invited to arrive a little early to socialize before the meeting begins.
Learn more about us:
Who We Are What We Do Our Meetings
We hope that you will browse our website and visit a meeting soon.
---
Next Meeting: Thursday, July 23 - Club Competition Finals with Guest Judges
On Thursday, July 23 we welcome guest judges and former presenters David Hartfield and Sean Busher. They will serve as our guest judges and will be critiquing the images that qualified in our previous club competitions to help determine our end of the year awards. Les Saucier is unable to attend in person but will provide written critiques for the meeting. We hope that you will join us to hear our judges discuss and provide constructive comments about members' images. This is a great opportunity to hear professionals assess the work of fellow members. Hope you can join us!
---

Product Spotlight - Mpix

Mpix has introduced a fantastic new line of Panoramic Photo Books into their wonderful family of photographic products. Re-live your amazing photographic journeys as you flip through pages of images that are woven into a seamless, lay-flat panoramic photo book. The premium books are hardbacks and bound with lovely linen covers with an array of color choices.

You can select either Matte Book Stock Paper or Semi-Gloss Photographic Paper and print up to 100 pages of exquisite images. A Skinny Dust Jacket is also an option on premium books for a stunning timeless look. Panoramic Photo Books are also available in soft cover in a variety of sizes with Matte Book Stock Paper. Now available at www.mpix.com.

---

Save the Date- August 13: 8x10 Night - Members' Mini Presentations

On Thursday, August 13, we will hold our first ever Members' 8x10 Night featuring 10 minute mini-presentations by eight of our own CCC members. Presenting members were asked to share favorite photos, talk about post processing ideas, show and tell about some of their favorite gear, share information about shooting locations, etc. - anything that the group would find interesting and informative.

Some of the topics will include presentations about Patagonia and Cuba, Ways to Use Digital Images, Textures in Photoshop, Vision Statements, and experiences as a Travel Photographer abroad. This is a great opportunity to hear from our own members about a variety of topics. Hope you can join us!

See our Calendar for more information about events and activities.

Comforting Hand © Bob Tapp

Third Place Award
PSA Photojournalism Division - Round 4

Header Images: 2014 CCC Competition Top Award Winners (L-R): Charlotte Kidd, Jim Carroll, Bob Pierlott