---
Partner Spotlight: The Photo Classroom
The Photo Classroom specializes in training photographers in all aspects of digital photography. With classes, workshops, photography trips, portrait studio rental, individual instruction and photographic internships, we offer a variety of opportunities for every level of photographer from the beginner to the professional.

We have been teaching photography for over 15 years and our teaching team has a combined 60 years of professional photography experience. We are uniquely qualified to educate photographers, teaching you everything you need to know to take your photography skills to the next level. Check out www.thephotoclassroom.com for a list of classes and see our Helpful Links page for more information.
---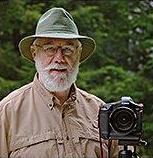 Next Meeting: Thursday, October 9 - Guest Speaker, Warren Bedell - The Tao of Photography
I have been interested in photography since my first Brownie with black-and-white film as a child. While in the Air Force in Spain in the late 1960's, I picked up my first 35mm camera. However, it was two years of intensive study at the Southeastern Center for the Arts in Atlanta, Georgia, in 1989 – 1990 Rustythat was the turning point in my vision. Studying the elements of composition and design, I was rewarded with superior images.
Shooting in urban Atlanta lead me to architectural subjects, and close-ups in particular. The lines and textures of the buildings, old and new, offered many opportunities. Over time I developed a style I call "Tactile Photography" with the goal of involving the viewer to be able to "feel" the textures — the roughness of the wood or the chips of peeling paint.
After more than a decade away from the viewfinder, I resumed my photography in August of 2004, switching to the digital format. Today I shoot exclusively with digital SLRs and process in the digital darkroom. Having also worked in a chemical black-and-white darkroom, I appreciate the wide range of options available today.
As a resident of Brevard, North Carolina, I continue to find even greater opportunities to explore my vision of photography in the architecture and nature of Western North Carolina's mountains, which offer an unlimited palette of patterns and textures. Presently, I am in the process of understanding nature photography and how it fits it in with my personal vision. Visit www.warrenbedellphotography.com for more info.

See our Calendar for more information about events and activities.